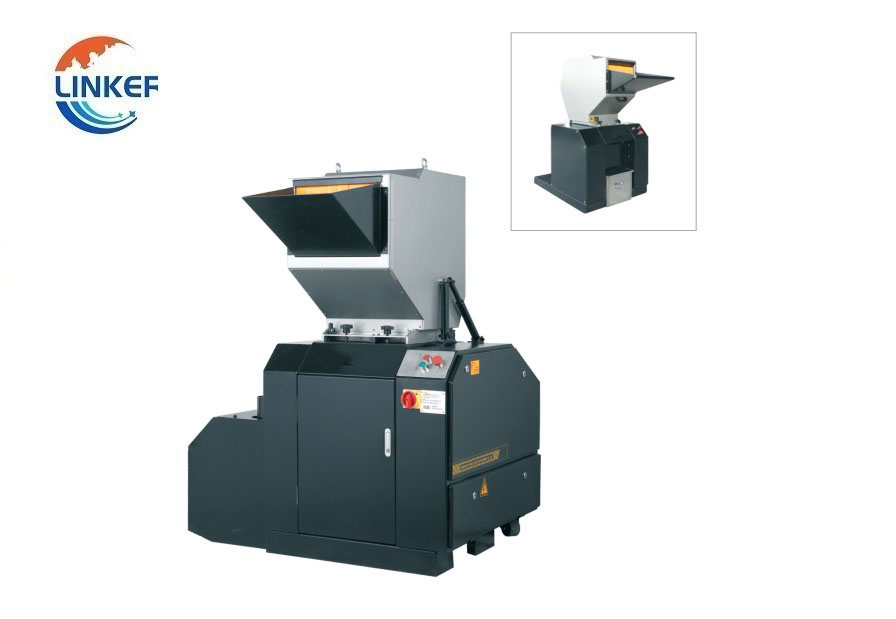 Electric Super Plastic Recycling Quite Shredder
Machine Name: silent crusher, silent shredder , silent mixer grinder, silent granular, silent grinder.
Motor Power (KW): 5.5~30;
Screen Hole(mm): 8;
Grinding Capacity(kg/h): 200~900;
Noise(a): 75~95

;

Price: $ 743-1,179.
What is Silent Shredder:
Classifications:
Advantages:
The quite Shredder is of compact size, easy to operate with fully enclosed sound insulation design. It has lower noise, at the same time, it can avoids dust contamination. It is suitable for centralized crushing of various pieces of injection molding, profiles, sheet or film and outlet materials. This series includes various types with a wide scope of application in the plastic industry.
Constant /Sealing/ Clean grind cutting technology;
Mineral energy consumption, no friction heat, uniform size of granule and low dust;
Modularity design and tailor made for your different applications;
Easy and quick change of rotating and fixing knife;
Easy and direct to access cutting house simple life cleaning when changing color or material;
Optional to choose low or high rotating speed;
Harden cutter ring is the standard configuration;
Wear resistant and turnover screen, excellent durability;
A quite environment due to sound proof covering;
compact and mobile structure;
The assistant gas spring help to open or close hopper easily.
What is the use of Quite Shredder?
Application: Quite Shredder is also called silent shredder, silent crusher. This series includes various types with a wide scope of application in the plastic industry. It is widely used in prompt recycling and processing of plastic scrap, waste and recycling materials. This machine can enhancing the utilization of plastic.
Time saving: immediate recovery within 30 seconds, no need to wait for centralized crushing, and really clean and clean;
Improve the quality: the water mouth material will be oxidized and humidified (absorb water) after being removed at high temperature and destroy the physical property. Immediate recycling within 30 seconds can reduce the physical strength and reduce the damage of color luster
Saving money: a short time of recycling, to avoid pollution, mixing caused by the defective rate, can reduce plastic, labor, management, storage, material purchase capital waste and loss;
Wide application: suitable for crushing and recycling soft and hard material such as PU, PVC, PC, ABC;
Simple: easy disassembly design, easy to change color and refueling, small and less space, suitable for use next to the machine in small workshop;
Medium speed motor, low noise, low energy consumption; The motor is equipped with overload protection device, and the power supply interlocking protection system, safe and reliable operation and cleaning;
Claw knife for plastic shredder
Optional accessories (1. With double stainless steel bucket).
| | | | | | | |
| --- | --- | --- | --- | --- | --- | --- |
| Model No. | 2230 | 2540 | 2650 | 3060 | 3670 | 4080 |
| Motor Power (KW) | 5.5 | 7.5 | 11 | 15 | 22 | 30 |
| Option Motor Power (KW) | 7.5 | 11 | 7.5/15 | 11/18.5 | 18.5/30 | 22/37 |
| Axis Rotating Speed(rpm) | 600 | 500 | 500 | 480 | 480 | 480 |
| Knife Material | | | | 9Crsi | | |
| Motive Quantity(pcs) | 9 | 12 | 15 | 18 | 21 | 24 |
| Fix Knife Quantity(pcs) | 2 | 4 | 4 | 4 | 4 | 6 |
| Rotating Diameter(mm) | 230 | 250 | 260 | 300 | 360 | 400 |
| Screen Hole(mm) | 8 | 8 | 8 | 8 | 8 | 8 |
| Optional Screen Hole(mm) | 4.6/10/12/14/18/25 | | | | | |
| Grinding Capacity(kg/h) | ≤200 | ≤300 | ≤450 | ≤550 | ≤650 | ≤900 |
| Weight(kg) | 400 | 550 | 700 | 1000 | 1600 | 1750 |
| Noise(a) | 75-95 | 75-95 | 75-95 | 75-95 | 75-95 | 75-95 |
Remark: Dimension is length*width*height, manual feeding material to choose short feeder, mechanical arm feeding material to choose high feeder.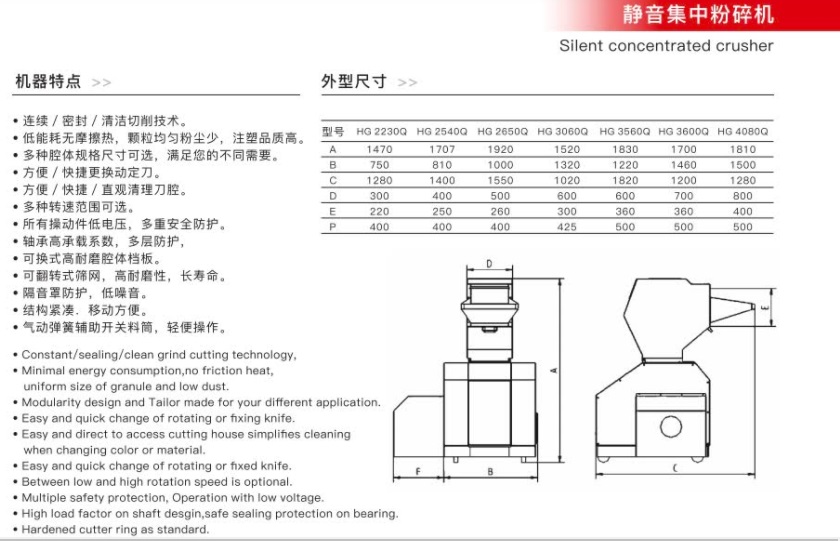 Trade Capacity
| | | | |
| --- | --- | --- | --- |
| International Commercial Terms(Incoterms): | FOB, CIF, CFR | Terms of Payment: | LC, T/T, PayPal, Western Union |
| Average Lead Time | 60 working days | Main Markets | North America, South America, Europe, Southeast Asia/ Mideast, East Asia(Japan/ South Korea), Australia, Domestic |
| Nearest Port: | Ningbo Port; Shanghai Port | Factory Address: | JiangSu, China |
Business Type:
Manufacturer/Factory
Main Products:
Mill, grinder, granulator, mixer, Crushing Equipment
Number of Employees:
100
Year of Establishment:
2014.05
Production Capacity

5000Set/Year
After-sales Service:
Technical Support; on-line teach lessons
R&D Capacity:


ODM, OEM
Annual Output Value:
US$5 Million – US$10 Million
No. of R&D Staff:
5
No. of Production Lines:
6
LK Mixer is a professional manufacturer for grinder, mixer and pulverizer. These machines are widely used in pharmaceutical, cosmetic, health care products and chemical industries. Our main product including granulating machine, grinder, mixer, dryer, etc. All mechanical products in accordance with the China GMP design requirements. And also we have other certifications such as CE, UL for motors.
Business Philosophy
"Quality is the main policy of sales" and "integrity is the principle of success" are the business philosophy of our people. We carry out one-year warranty, lifelong maintenance service, with technical consultation, with material test machine and other services, and long-term supply of equipment. Welcome new and old customers to negotiate cooperation!
Certifications: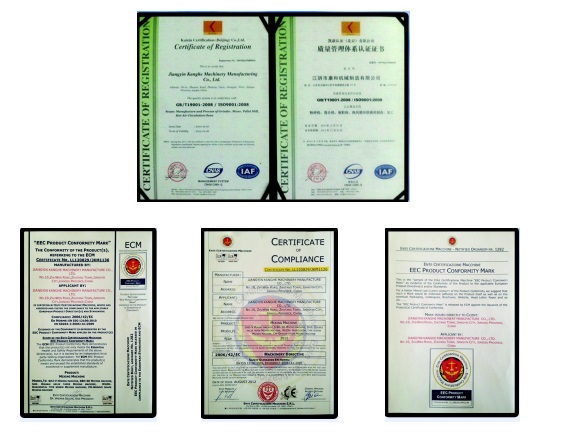 Electric Cabinet with UL Certification

Cyclone Processor and Motors:

Spare Parts: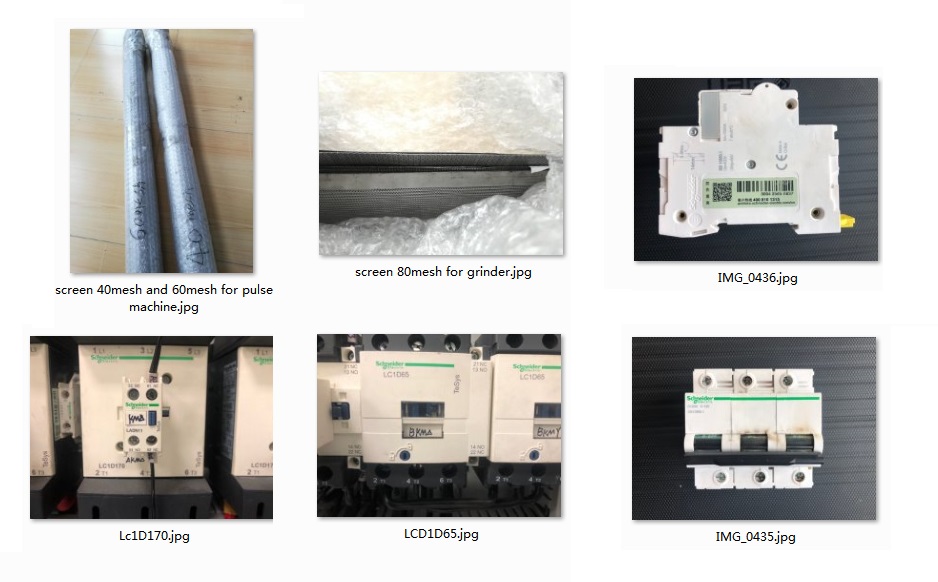 Small Machine Packing:
Small machine packed with export fumigation-free wooden cases, goes with bulk shipment or in container.

Large Machine Packing:
Customer Side Machine Groups Showcase Videos:
Dust Collector Shipment
Shipment – Packing Method
Two Large Industrial Grinder Ready to Ship
Domestic Shipment Show Case: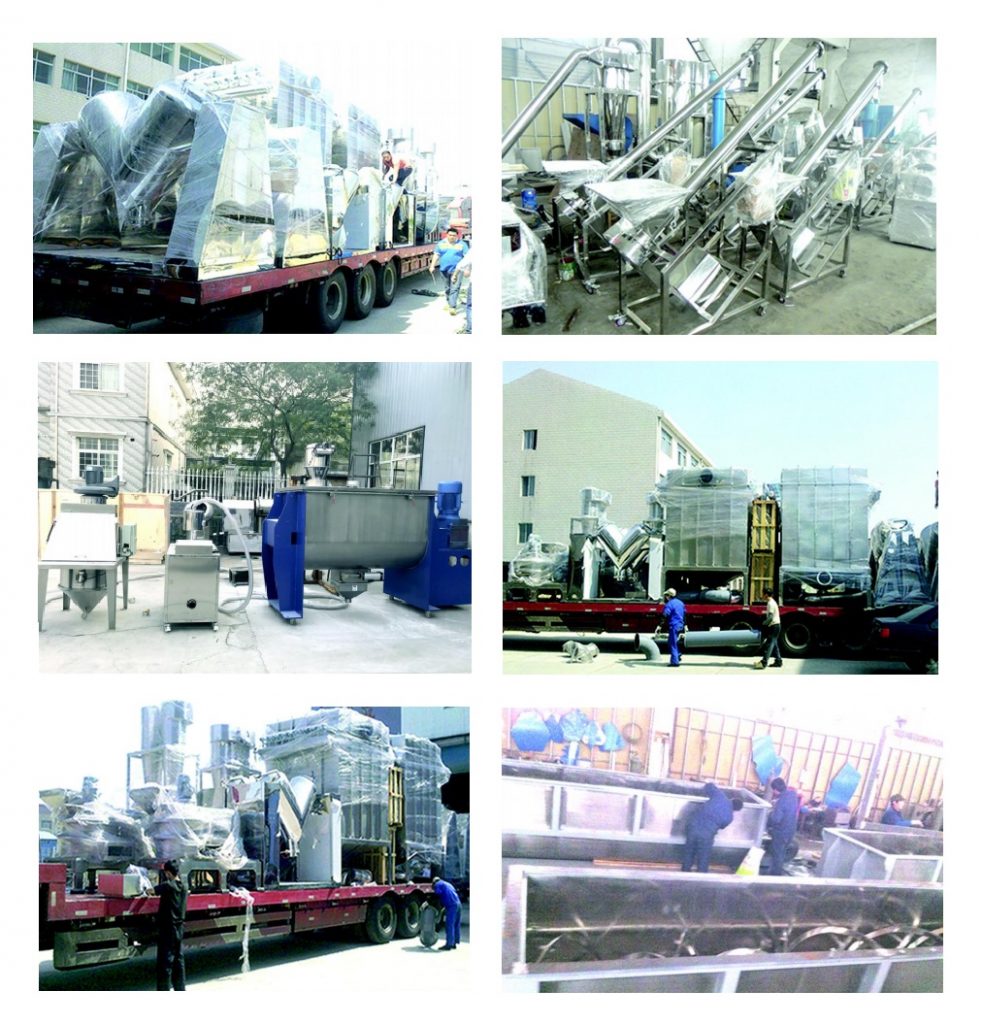 Operation Instruction
General Provisions
The first reprint machine, shredder driver must be trained, to achieve the "three understanding" (understand the structure, understand the performance, understand the principle), "four" (will use, will maintain, will maintain, will deal with the fault), after the training test qualified, obtain a certificate, quasi post operation.
Article 2 Cooperate closely with the scraper conveying driver of the working face and the belt conveyor driver of the transportation lane, make unified signal contact, and start and stop in order. When large lump coal and gangue are accumulated and spilled at the feed port of the crusher, the operation of the scraper conveyor should be stopped. If there are large lumps of coal, gangue cannot enter the broken plane or there are metal objects, it must be shut down for treatment.
Preparation Work
1. Tools: wrench, pliers, screwdriver, hammer, spade, etc.
2, necessary spare parts: all kinds of short chain, chain link, bolts, nuts, crusher insurance dowel, etc.;
3. Lubricating oil and turbine oil
Treatment of inspection
1, motor, reducer, hydraulic coupling, head, tail and other parts of the connection must be complete, intact, tight. Reducer, hydraulic shaft joint should have no oil leakage, oil leakage, oil quantity should be appropriate.
2, signal must be sensitive and reliable, no signal is not allowed to start. Make sure the spray sprinklers are in good condition.
3. Power cables and operation lines must be hung neatly without being squeezed;
4, the coal, gangue, sundries near the nose and the coal dust of the motor and reducer must be cleaned;
5, face scraper conveyor head and reprint machine tail lap to be suitable;
6. The scraper chain plate is of moderate importance, and the scraper and screws must be fully fastened;
7, reprinting machine walking trolley must be stable and reliable;
8. When the machine is partly turned on, the operation of each part should have no abnormal sound, and the scraper, chain and connecting ring should have no torsion, twist and bend deformation;
9. The roadway support at the shredder and shredder must be intact and firm.
10, the safety protection net and protection device of the crusher, to ensure that no deformation no failure, safe and reliable;
11. The roadway support of the reprinting machine and the shredder must be intact and firm.
Precautions
Trial run
1. Switch on the power grid switch;
2. Manually press the click button for the trial run of the machine;
3. Start and idling for 1 ~2 weeks;
4. Joint operation of reprinting machine and shredder;
5. Check that there is no abnormality and send a startup signal.
6, the operation of the machinery and motor should be no vibration, sound and humidity should be normal, the bearing temperature should not exceed 75℃, motor temperature should not exceed the nameplate provisions.
7. The chain tightness of the reprinting machine must be consistent. Under the condition of full load, the chain tightness is not allowed to exceed the length of two chain rings.
8. After the fusible plug or fried piece of the joint of the reprinting machine is damaged, wood or other materials shall not be used instead.
9. The safety device of the protective net of the crusher should be kept in good condition, and should be checked frequently in the working process. If there is any damage, it should be stopped immediately.
10, reprinting machine tail protection and other safety devices must be ensured intact.
11, transfer and transfer machine.
(1) Clean the floating coal and gangue in the tail, on both sides of the fuselage and under the bridge;
(2) Protect cables, water pipes, oil pipes, and hang them neatly;
(3) Check the roadway support, and push the reprinting machine under the condition of ensuring safety;
(4) The walking trolley and the tail frame of the belt conveyor should have good contact, do not run off, and have good lap after moving, prevent large plastics from hurting the tape, and ensure smooth coal flow;
(5) After the transfer machine, the nose and tail should be kept flat, straight and stable, and the jack live rod should be recovered.
Operation Attention
1, plastic crusher and power unit to install firmly. If need long-term fixed operation, plastic crusher should be fixed on the cement base; If the plastic crusher is needed for mobile operation, the unit should be installed on a base made of Angle iron, and ensure that the power machine (diesel engine or motor) and the belt pulley groove of the plastic crusher are in the same rotary plane. 2. After the installation of the plastic crusher, the fasteners of all parts should be checked and tightened if they are loose. At the same time to check the belt tightness is appropriate.
3. Before starting the plastic crusher, first rotate the rotor by hand to check whether the jaw, hammer and rotor are flexible and reliable, whether there is collision in the crushing room, whether the rotating direction of the rotor is consistent with the direction indicated by the arrow of the machine, and whether the lubrication of the power machine and plastic crusher is good.
4, do not casually replace the belt pulley, in case the speed is too high resulting in the explosion of the crushing chamber, or the speed is too low affecting the working efficiency of the crusher.
5. After starting the plastic crusher, it should be kept idling for 2~3min, and then feeding after there is no abnormal phenomenon.
6, the work should always pay attention to the operation of the plastic crusher, first of all, the feeding should be uniform, to prevent blocking the crushing chamber; Second, don't overwork for a long time. If there is vibration, noise, bearing and body temperature is too high, spraying material and other phenomena, should immediately stop the machine for inspection, troubleshooting before continuing to work.
Silent Garden Shredder:
Industrial Large Silent Coffee Grinder:
Silent Grinder Video
Is there such a thing as a quite shredder?
While most shredders generate some level of noise during operation, there are some models that are designed to operate more quietly than others. These shredders are often referred to as "quiet shredders" or "low noise shredders."
Quiet shredders typically use advanced technology such as insulated motor housings, noise-reducing blades, and soundproofing materials to reduce noise levels during operation. They may also have a slower shredding speed, which can help to reduce noise.
The level of noise reduction offered by quiet shredders can vary depending on the model and the materials being shredded. However, in general, they can significantly reduce noise levels compared to standard shredders, making them a good choice for offices or other environments where noise levels need to be kept to a minimum.
When shopping for a quiet shredder, it is important to look for models that are specifically designed for low noise operation and have noise reduction features. It is also a good idea to read reviews and check the manufacturer's specifications to get an idea of the noise level that the shredder produces.
How loud is a shredder?
The noise level of a shredder can vary depending on several factors, such as the type and size of the shredder, the materials being shredded, and the speed of the shredder. However, most shredders produce noise levels that range from around 60 decibels (dB) up to 100 dB or more.
To give you an idea of how loud this is, a normal conversation typically produces around 60-65 dB of noise, while a vacuum cleaner can produce around 70-80 dB. A shredder operating at its maximum capacity can produce noise levels of up to 100 dB, which is roughly equivalent to the noise level of a power saw or a motorcycle.
However, it is important to note that the actual noise level produced by a shredder can depend on various factors, such as the distance from the shredder, the materials being shredded, and the environment in which the shredder is being used. Additionally, some shredders are designed to operate more quietly than others and may produce noise levels closer to the lower end of the range.
If you are concerned about the noise level of a shredder, you may want to consider purchasing a model that is specifically designed for low noise operation or using the shredder in a separate room or area to reduce noise levels. It is also a good idea to wear ear protection if you are going to be using a shredder for an extended period of time.
Why is my shredder so loud?
There are several reasons why your shredder might be producing more noise than usual:
Dull or damaged blades: If the blades in your shredder are dull or damaged, they may not be cutting the material efficiently, which can cause the motor to work harder and produce more noise.
Overloading: If you are trying to shred too much material at once, this can put a strain on the motor and cause it to produce more noise.
Poor maintenance: If your shredder is not properly lubricated or maintained, this can cause the motor to work harder and produce more noise.
Age: As shredders get older, the motor and other components can wear down, which can cause the machine to produce more noise.
Design: Some shredders are simply louder than others due to their design and construction. Cheaper models may also use lower-quality components that can produce more noise.
To reduce the noise level of your shredder, you can try the following:
Sharpen or replace the blades: If the blades are dull or damaged, this can be causing the shredder to produce more noise.
Don't overload the machine: Only shred the recommended amount of material at one time to prevent the motor from working too hard.
Perform regular maintenance: Keep your shredder properly lubricated and clean to help reduce noise levels.
Consider upgrading to a quieter model: If your current shredder is particularly noisy, you may want to consider investing in a quieter model that is designed for low noise operation.
Overall, if you are concerned about the noise level of your shredder, it is important to take steps to reduce the noise and prevent any potential damage to the machine.
Recommend Reading