Dust Grinder 10-1500kg/h 20-120mesh WFW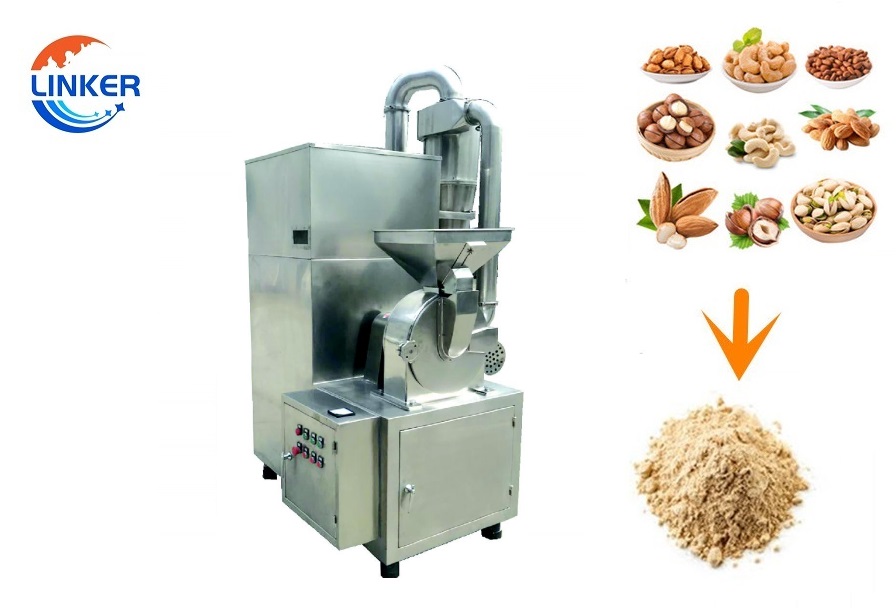 Winnowing Dust Grinder – WF Series
Production Capacity:10-1500kg/h
Crushing fineness:20-120mesh
Spindle speed:2200-5000mm
Crushing Motor power: 5.5-22kw
Machine Weight:TBD
Winnowing Dust Grinder Introduction:
Winnowing Dust Grinder is suitable for pharmaceutical, chemical, food, sugar, salt, rice, corn, starch, oats, flour, beans, peas, lentils, beans, spices, flavors, sweeteners, dried fruit, nuts, potato chips, broken bread, coffee, cocoa powder, potato powder, milk powder, onion, dehydrated vegetables, lotus seed, glucose, oat hulls, shells, ginger, Chinese prickly ash, chili, pepper, naked oats, beans, star anise, cinnamon,) powder industry, such as continuous discharge is combining crushing and dust collection as a whole crushing equipment.
A hammer mill is a type of industrial equipment that is used for grinding and crushing materials into small particles. It is widely used in various industries such as milling grain, biofuel production, and manufacturing animal feed. The hammer mill works on the principle of impact, where the hammer rotor is driven by a motor to rotate at high speed and the materials are struck by the hammer at high velocity. This results in the reduction of the size of the material, which makes it easier to process.
The hammer mill consists of a series of hammers that are attached to a rotating shaft. The shaft is typically powered by an electric motor, diesel engine, or other power source. The hammers are free to swing on the ends of the cross, or fixed to the central rotor. The rotor spins at a high speed, and the material is fed into the chamber where the hammers are located. The material is then impacted by the hammers and is broken down into smaller particles.
One of the advantages of using a hammer mill is that it can produce a wide range of particle sizes. This is because the size of the holes in the screen that is used to separate the material from the hammers can be adjusted. This allows the operator to produce particles of different sizes, depending on the specific requirements of the end product.
Hammer mills are commonly used in the agriculture industry to grind grain into flour or meal for animal feed. They can also be used to grind other materials such as wood chips, sawdust, and biomass for the production of biofuels. In the food industry, hammer mills can be used to grind spices, sugar, and other ingredients into powder form.
One of the main benefits of using a hammer mill is its low cost. Compared to other types of grinding equipment, such as ball mills or rod mills, the hammer mill is relatively inexpensive to operate and maintain. This makes it a popular choice for small-scale and medium-scale operations.
Another advantage of using a hammer mill is its versatility. It can be used for a wide range of applications, from grinding grains to processing plastics and recycling materials. It can also be used to reduce the size of materials that are too large to be processed by other types of equipment.
However, there are also some disadvantages to using a hammer mill. One of the main drawbacks is that it can produce a lot of dust and noise. This can be a problem in environments where dust and noise levels need to be kept to a minimum. Additionally, the hammer mill can produce a lot of heat, which can be a problem when grinding heat-sensitive materials.
To mitigate these issues, some manufacturers have designed hammer mills with features such as dust collection systems, noise reduction systems, and cooling systems. These features can help to make the hammer mill more efficient and reduce its environmental impact.
In conclusion, the hammer mill is a versatile and cost-effective piece of equipment that is widely used in various industries for grinding and crushing materials. While it has some disadvantages, such as dust and noise production, these can be mitigated through the use of specialized features and equipment. With its ability to produce a wide range of particle sizes and its low cost of operation, the hammer mill is likely to continue to be a popular choice for many industries in the future.
Winnowing Dust Grinder Feature:
Crusher by crushing host, cyclone separator, dust collection box and the induced draft fan and so on several parts, the machine adopts movable and fixed gear ring mesh impact shear ring material, friction surface width. Activity of tooth plate rotating at high speed at the same time, the strong airflow, heat and material of the crushing chamber together soon outflow from the screen. Control screen mesh size can be used to replace to decide, and can be recycled materials, with first class or second class, dust emission and designed according to GMP standard. The whole machine is made of stainless steel materials. The host USES the water cooling. Production process without dust float in the sky. Turbine crusher has small volume, low energy consumption, smooth transmission, low noise, good seal degree is high, the cold function, easy disassembling maintenance switch parts. Convenient maintenance switch parts.
Winnowing Dust Grinder Technical Parameters:
| | | | | | |
| --- | --- | --- | --- | --- | --- |
| Model | WF-20 | WF-30 | WF-40 | WF-50 | WF-60 |
| Power(kw) | 5.5 | 7.5 | 11 | 15-18.5 | 22 |
| Tooth disk rotational speed | 5000 | 4500 | 3800 | 3000 | 2200 |
| Crush size(mm) | 20-120 | 20-120 | 20-120 | 20-120 | 20-120 |
| Production | 10-150 | 30-300 | 40-600 | 60-800 | 100-1500 |
| Blower Power(kw) | 1.5 | 2.2 | 2.2 | 4 | 5.5 |
Grinder Knife
Winnowing Dust Grinder Screen:
Screen Material: Support 304, 316 stainless steel screen customization.
Screen mesh: Support mesh size customization.
Shipment Picture: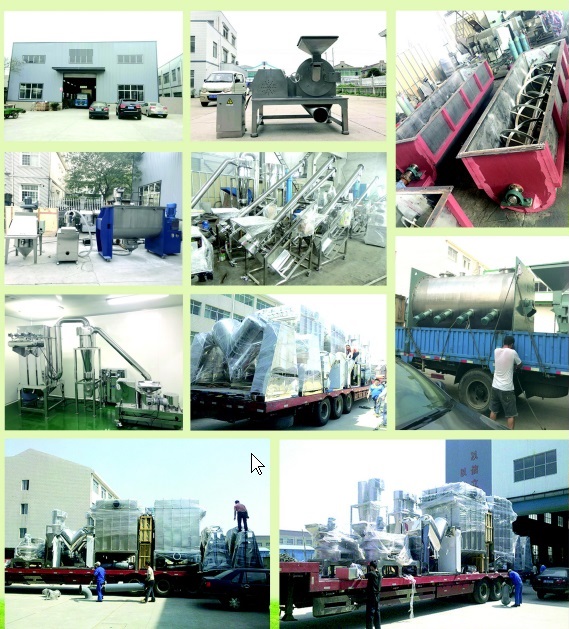 | | | | | | | | | | | |
| --- | --- | --- | --- | --- | --- | --- | --- | --- | --- | --- |
| Mode/Item | WF- universal grinder | FL Series Air Cooled Crusher | B Series Vacuum mill group | WF series pulse dust grinder group | WFJ dyadic type turbine pulveriger | GFSJ series High Efficient Mill | WFJ-Chinese medicine grinder | WF-winnowing dust grinder | SF – hammer mill | CSJ Series High Coarse Crusher |
| food grinder | √ | √ | √ | √ | √ | √ | √ | √ | √ | √ |
| cereal | √ | √ | √ | √ | √ | √ | √ | √ | √ | √ |
| corn | √ | √ | √ | √ | √ | √ | √ | √ | √ | √ |
| rice | √ | √ | √ | √ | √ | √ | √ | √ | √ | √ |
| Millet | √ | √ | √ | √ | √ | √ | √ | √ | √ | √ |
| chili | √ | √ | √ | √ | √ | √ | √ | √ | √ | √ |
| Sunflower | √ | √ | √ | √ | √ | √ | √ | √ | √ | √ |
| ginger | √ | √ | √ | √ | √ | √ | √ | √ | √ | √ |
| Wheat oil | √ | √ | √ | √ | √ | √ | √ | √ | √ | √ |
| soybean | √ | √ | √ | √ | √ | √ | √ | √ | √ | √ |
| white sugar | √ | √ | √ | √ | √ | √ | √ | √ | √ | √ |
| salt | √ | √ | √ | √ | √ | √ | √ | √ | √ | √ |
| starch, | √ | √ | √ | √ | √ | √ | √ | √ | √ | √ |
| oat, | √ | √ | √ | √ | √ | √ | √ | √ | √ | √ |
| flour | √ | √ | √ | √ | √ | √ | √ | √ | √ | √ |
| pea, | √ | √ | √ | √ | √ | √ | √ | √ | √ | √ |
| lentils | √ | √ | √ | √ | √ | √ | √ | √ | √ | √ |
| green beans, | √ | √ | √ | √ | √ | √ | √ | √ | √ | √ |
| spices, | √ | √ | √ | √ | √ | √ | √ | √ | √ | √ |
| Flavors and Fragrances | √ | √ | √ | √ | √ | √ | √ | √ | √ | √ |
| sweetener | √ | √ | √ | √ | √ | √ | √ | √ | √ | √ |
| dried fruit | √ | √ | √ | √ | √ | √ | √ | √ | √ | √ |
| potato chips, | √ | √ | √ | √ | √ | √ | √ | √ | √ | √ |
| crumbled bread, | √ | √ | √ | √ | √ | √ | √ | √ | √ | √ |
| cocoa powder, | √ | √ | √ | √ | √ | √ | √ | √ | √ | √ |
| potato flour | √ | √ | √ | √ | √ | √ | √ | √ | √ | √ |
| coffee, | √ | √ | √ | √ | √ | √ | √ | √ | √ | √ |
| milk powder | √ | √ | √ | √ | √ | √ | √ | √ | √ | √ |
| onion | √ | √ | √ | √ | √ | √ | √ | √ | √ | √ |
| lotus seeds | √ | √ | √ | √ | √ | √ | √ | √ | √ | √ |
| glucose | √ | √ | √ | √ | √ | √ | √ | √ | √ | √ |
| oat husk | √ | √ | √ | √ | √ | √ | √ | √ | √ | √ |
| husk | √ | √ | √ | √ | √ | √ | √ | √ | √ | √ |
| star anise | √ | √ | √ | √ | √ | √ | √ | √ | √ | √ |
| nut | √ | √ | √ | √ | √ | √ | √ | √ | √ | √ |
| coffee beans | √ | √ | √ | √ | √ | | √ | √ | √ | √ |
| root class | √ | √ | √ | √ | √ | √ | √ | √ | √ | √ |
| Diameter | √ | √ | √ | √ | √ | √ | √ | √ | √ | √ |
| black pepper | √ | √ | √ | √ | √ | √ | √ | √ | √ | √ |
| soybean meal | √ | √ | √ | √ | √ | √ | √ | √ | √ | √ |
| garlic | √ | √ | √ | √ | √ | √ | √ | √ | √ | √ |
| dehydrated vegetables | √ | √ | √ | √ | √ | √ | √ | √ | √ | √ |
| hawthorn | √ | √ | √ | √ | √ | √ | √ | √ | √ | √ |
| garlic slices | √ | √ | √ | √ | √ | √ | √ | √ | √ | √ |
| dried ginger | √ | √ | √ | √ | √ | √ | √ | √ | √ | √ |
| saccharin | √ | √ | √ | √ | √ | √ | √ | √ | √ | √ |
| food | √ | √ | √ | √ | √ | √ | √ | √ | √ | √ |
| shrimp skin | √ | √ | √ | √ | √ | √ | √ | √ | √ | √ |
| pumpkin powder | √ | √ | √ | √ | √ | √ | √ | √ | √ | √ |
| seasoning | √ | √ | √ | √ | √ | √ | √ | √ | √ | √ |
Recommend Products
Recommend Reading