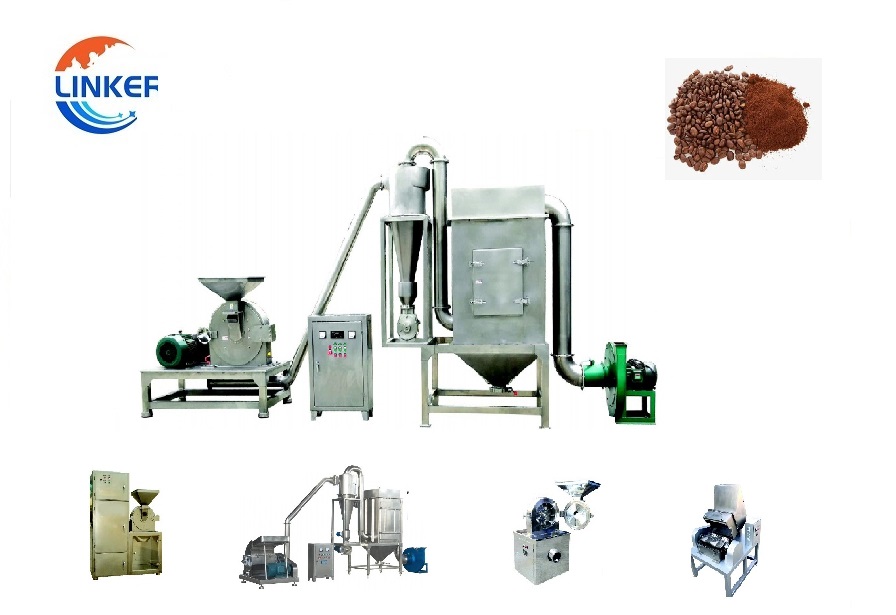 Coffee Grinder Machine
Application: To grind coffee bean to powder, suitable for baked or unbaked coffee bean;
Mesh: 0.5-730mm, 20-320 mesh, <10μm;
Cutting knife type: hammer type, cutter type;
Motor: electric;
Raw material: stainless steel; ceramic;
Price: $ 800~48,000.
What is Coffee Grinder Machine?
A Coffee Grinder Machine is also called "coffee bean pulverizer", "coffee bean crusher", or "coffee bean mill". It is a industrial automatic food processor. Together with dust collector, cyclone separator and rotary valve, coffee bean material feeder, the machine can continuous working 24 hours. For controlling temperature of machine in working, it also designed with water cooling system of jacket.
The coffee grinder machine is capable of crushing baked or unbaked coffee bean to required mm or mesh sizes. It is also called food pulverizer, or food crusher, food processor.
According to the size of the crushed material, coffee grinding machine can be divided into coarse crushing, fine crushing and ultra- fine crushing.
Coffee grinding machine, cyclone separator, dust colloector and rotary valve, these portions consists of dust collector grinder group to achieve the purpose of the crusher in the form of high-speed and high effect impact.
In the process of crushing the external force imposed on the solid shear, impact, rolling, grinding four. Shear is mainly used in coarse crushing (crushing) and crushing operations, suitable for the crushing or crushing of ductile or fibrous materials and bulk materials;  Impact is mainly used in crushing operations, suitable for crushing brittle materials;  Grinding is mainly used in high fineness grinding (ultra-fine grinding) operations, suitable for most of the properties of materials for ultra-fine grinding operations;  Grinding is mainly used for ultrafine grinding or super large grinding equipment, suitable for further grinding operation after grinding operation. 
Large Coffee Bean Grinder eviews:
Whole Bean Coffee Grinder
A whole bean coffee grinder is a device used to grind whole coffee beans into smaller pieces before brewing. It's a kitchen appliance that is specifically designed for coffee lovers who prefer to buy whole coffee beans instead of pre-ground coffee.
Whole bean coffee grinders come in different types, including manual and electric, and can range in price depending on the features and quality. They typically have adjustable settings to control the fineness or coarseness of the grind, which is important as different brewing methods require different grind sizes to achieve the best results.
Using a whole bean coffee grinder allows you to control the freshness and quality of your coffee by grinding only the amount of coffee you need for each brew. This means you can have freshly ground coffee every time, which can enhance the aroma, flavor, and overall quality of your coffee.
Electric Coffee Bean Grinder:
An electric coffee bean grinder is a popular and convenient kitchen appliance that quickly grinds whole coffee beans into the desired consistency for brewing. Electric grinders typically use blades or burrs to grind the beans, and many models have adjustable settings to control the grind size. They are available in a range of prices and styles, from basic models to more advanced models with features like timers, automatic shut-off, and multiple grind settings. Electric grinders offer convenience and consistency, allowing coffee lovers to easily grind the right amount of coffee for their preferred brewing method and ensuring a fresh and flavorful cup every time.
Commercial Coffee Bean Grinder:
A commercial coffee bean grinder is a heavy-duty appliance designed for use in coffee shops, cafes, and other businesses that serve high volumes of coffee. These grinders are typically larger and more powerful than home models, with larger hopper capacities and more durable grinding burrs or blades. They are designed to grind large quantities of coffee quickly and efficiently, with multiple grind settings to accommodate different brewing methods. Commercial grinders are also built to withstand heavy use and require minimal maintenance. They are essential for businesses that want to provide their customers with high-quality, freshly ground coffee and maintain consistent quality and flavor.
Soy Bean Grinder:
A soybean grinder, also known as a soy milk maker, is a kitchen appliance used to grind soybeans into a smooth paste to make soy milk or tofu. Soybean grinders typically use a combination of grinding, heating, and blending to transform raw soybeans into a creamy, nutritious liquid. Many models have automatic settings for soaking and grinding, making the process quick and easy. Soybean grinders are available in a range of sizes and styles, from small countertop models to larger commercial units. They are popular among vegans, vegetarians, and health-conscious individuals who prefer plant-based milk alternatives to dairy milk.
Quiet Coffee Bean Grinder:
A quiet coffee bean grinder is a type of grinder that is designed to operate at a lower noise level than traditional grinders. These grinders typically use a slower motor and have insulated bodies to reduce the noise generated during the grinding process. Quiet coffee grinders are ideal for early morning coffee preparation or for shared living spaces where noise can be a concern. They offer the same convenience and consistency as traditional grinders, but with the added benefit of quieter operation. While they may be slightly more expensive than regular grinders, the peace and quiet they provide can be worth the investment for many coffee lovers.
Portable Coffee Bean Grinder:
A portable coffee bean grinder is a compact and lightweight device designed for coffee lovers who enjoy brewing fresh coffee while on the go. These grinders are small enough to fit in a backpack or travel bag, making them ideal for camping, hiking, or traveling. Portable coffee grinders are available in manual or electric models, with adjustable settings to control the grind size. They are easy to use and can grind enough coffee beans for a single cup or a small pot of coffee. Portable coffee grinders offer convenience and flexibility, allowing coffee lovers to enjoy freshly ground coffee wherever they go.
Features of Coffee Grinder Machine:
This large automatic Coffee Grinder Machine is specially designed for the oily substances such as almonds, walnuts, peanuts, sesame seeds, beans, spices, food seasonings, etc. It is specially designed and developed to solve the problems of easy oiling and sticking problems when crushing and grinding. Therefore, these machines are suitable for many food materials such as pepper, coffee bean and so on.
What is the use of Coffee Grinder Machine?
As a food processor, large automatic industrial Coffee Grinder Machine is not only suitable for baked and unbaked coffee bean, but also suitable for various food industries. For example, corn, rice, ginger, oil wheat, soybean, star anise, cinnamon, dehydrated vegetables, hawthorn, dried ginger, onion, garlic, chives, carrots, soybean meal, plant fiber, starch, fishmeal, flavors, chitin, cabbage, grain, shrimp, condiments, spices, ginseng, American ginseng, agricultural and sideline products, yam, rehmannia, spinach), chemicals (dye, pigments, coatings, pesticides, white carbon, black.
It is a kind of super grinder for low hardness materials such as carbon, algae, bentonite and ceramic glaze, pharmaceuticals, feed, calcium carbonate and Chinese herbal medicine.
The Coffee Grinder Machine group consists of main machine, assistant machine, dust bag filter and control cabinet.The process of produce is continuous 24 hours.
| | | | |
| --- | --- | --- | --- |
| Model No. | WFJ, WF, CSJ, | Automatic Grade | Automatic |
| Cylindrical Grinder Type | Universal Cylindrical Grinder | Precision | High Precision |
| Certification | ISO 9001, CE, SGS, ISO, GMP | Condition | New |
| Name | Large grinder, Industrial grinder, superfine high efficiency mill, | Other Name | Stainless Steel Grinder; Multi-Use Grinding Machine |
| Dust Collection | Bag Filter | Mesh Size or mm size | 0.5-730mm, 20-320 mesh, <10μm |
| Separator | Cyclone Separator | Material | SUS304 SUS316 |
| Power | 380V 220V 415V; or any customize according to request. | Production | Continuous |
| Shipping Method | By Sea | Grinder Chamber | Turbo type; window type |
| HS Code | 8479820090 | Transport Package | Wooden Case and container, or Bulk shipment |
| Trademark | LINKER | Origin | JiangSu, China |
| Production Capacity | 5000Set/Year | Warranty | 1 year |
| After-sales Service: | Technical Support; on-line teach lessons | Processing Object | Curve |
Trade Capacity
| | | | |
| --- | --- | --- | --- |
| International Commercial Terms(Incoterms): | FOB, CIF, CFR | Terms of Payment: | LC, T/T, PayPal, Western Union |
| Average Lead Time | 60 working days | Main Markets | North America, South America, Europe, Southeast Asia/ Mideast, East Asia(Japan/ South Korea), Australia, Domestic |
| Nearest Port: | Ningbo Port; Shanghai Port | Factory Address: | JiangSu, China |
Business Type:
Manufacturer/Factory
Main Products:
Mill, grinder, granulator, mixer, Crushing Equipment
Number of Employees:
100
Year of Establishment:
2014.05
Production Capacity

5000Set/Year
After-sales Service:
Technical Support; on-line teach lessons
R&D Capacity:


ODM, OEM
Annual Output Value:
US$5 Million – US$10 Million
No. of R&D Staff:
5
No. of Production Lines:
6
LK Mixer is a professional manufacturer for grinder, mixer and pulverizer. These machines are widely used in pharmaceutical, cosmetic, health care products and chemical industries. Our main product including granulating machine, grinder, mixer, dryer, etc. All mechanical products in accordance with the China GMP design requirements. And also we have other certifications such as CE, UL for motors.
Business Philosophy
"Quality is the main policy of sales" and "integrity is the principle of success" are the business philosophy of our people. We carry out one-year warranty, lifelong maintenance service, with technical consultation, with material test machine and other services, and long-term supply of equipment. Welcome new and old customers to negotiate cooperation!
Certifications: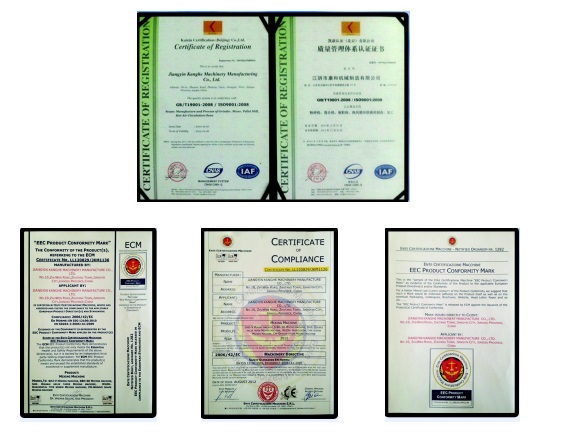 Electric Cabinet with UL Certification

Cyclone Processor and Motors:

Spare Parts: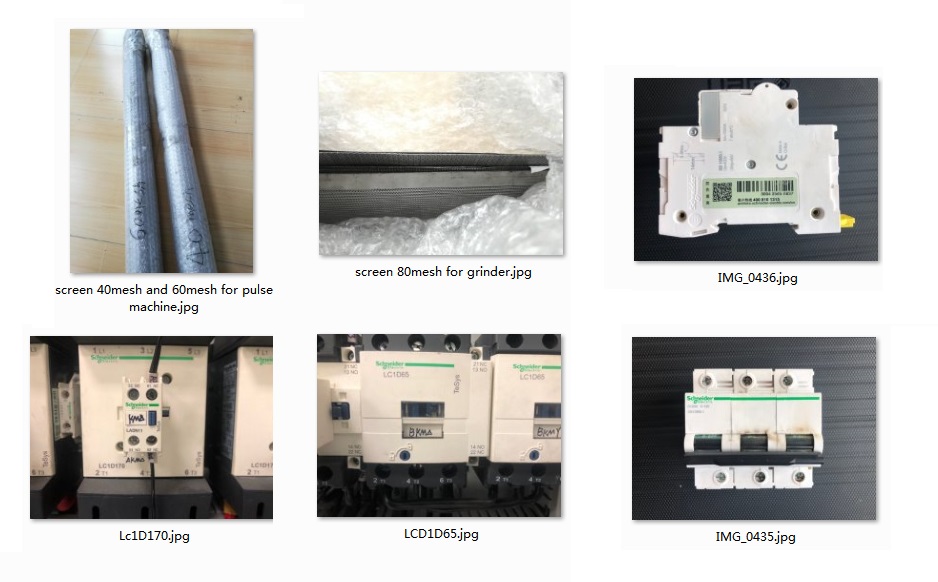 Small Machine Packing:
Small machine packed with export fumigation-free wooden cases, goes with bulk shipment or in container.

Large Machine Packing:
Customer Side Machine Groups Showcase Videos:
Dust Collector Shipment
Shipment – Packing Method
Two Large Industrial Grinder Ready to Ship
Domestic Shipment Show Case: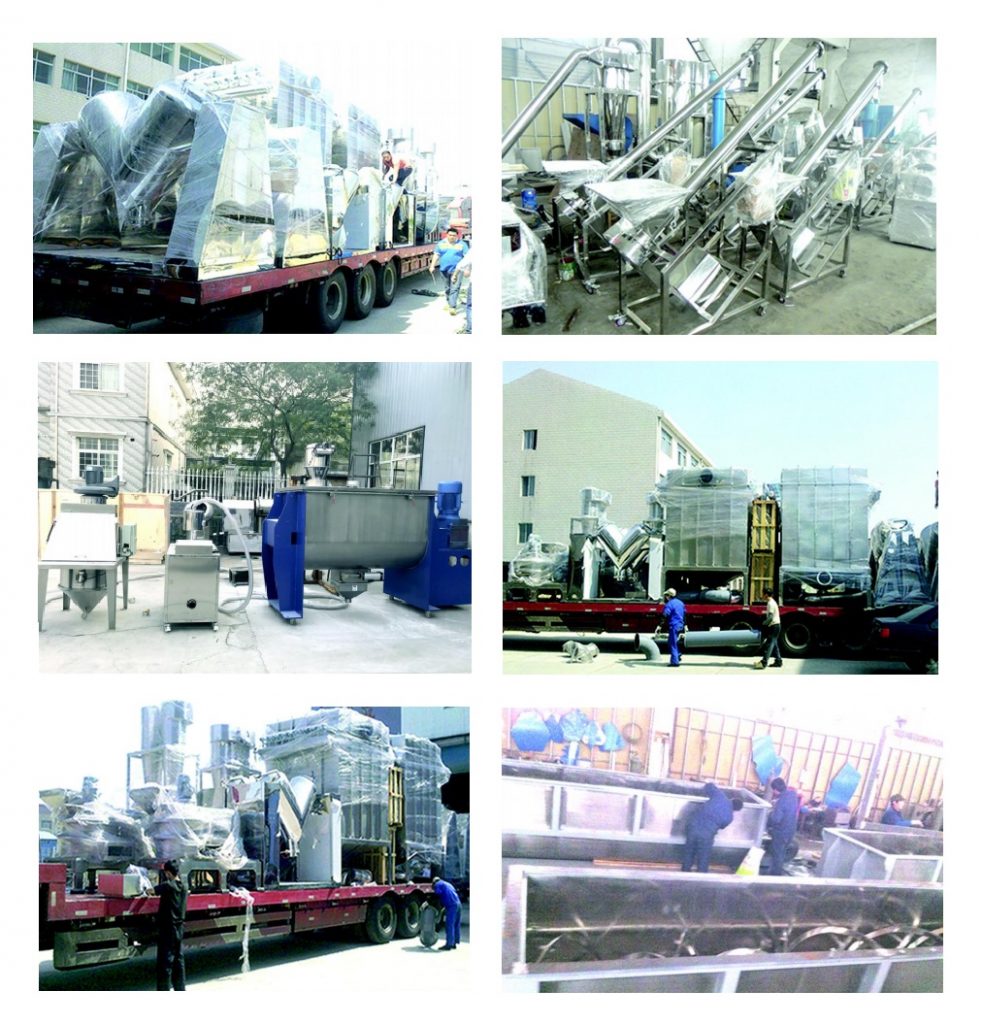 Other Food Grinders:
Coffee Grinder Youtube Video (WFJ Turbine Type Grinder is Suitable for baked Coffee Bean)
Coffee Grinder Youtube Video (Hammer Type is NOT suitable for baked Coffee Bean, because it's too oil.)
1. How to choose the right models?
– Choose small or large ? Calculate your current customer capacity request, this is to get a estimate capacity needs. To think about you only for small quantity use or large quantity. Do you want to expand your customer base so that need to expand your capacity in near future? If yes, you can order larger machine instead of small machine. If not, smaller one is more suitable for you.
– Choose single or whole group? Single machine is cheaper and easy to move from here to there, space location are also easy. Whole group machine including material feeder, main machine, cyclone sperator and rotary valve. Whole group machine not easy to move cause of link of each portions. But whole group also advantages such as easy to dust collect, save manpower. Think about clearly what you want, we would know which is right to choose.
– If you think about your customers and volume, you'll be off to a good start in knowing what you need from your grinder.
2. How to design my factory layout?
Right size is definitely important for grinder business. 
If your business is small, you may not have the space to accommodate a large grinder. Read keep in mind, While, that a smaller grinder doesn't have to mean that it's not able output as much as a bigger one.
On the contrary, if you have a lot of space, you may require different things from your grinder. For example, you may want to have dust collector and material feeder for your enviornment production and operation convenience.
3. What's the difference between industrial large electric coffee grinder and a coffee shop?
-Industrial coffee grinders can grind very large quantities of coffee bean to powder, Coffee shop can buy from factory and sell to customer or buy small coffee grinder to grind the powder by themselves.
4. How to estimate the Speed of coffee grinder machine that I need?
Speed is an easy to estimate: We have an estimate capacity for each coffee grinder machine. To more accuracy test, you can have sample of coffee bean to do trail test for each model. This can helps us to get a more accurate capacity volume. We test and calculate how many KG/hour or pounds/hour that we can get for each model, then you can choose how many quantity for each model that you need.
LK coffee bean grinder capacity range from 2.5kg/h to 3000kg/hour for your choose. You can always find the right model no matter you are laboratory want the small machine or a large factory want big machine.
5. How to calculate the Quantity of coffee Bean machine that I need?
If you are a large factory request several machine. You may think the question of quantity that you need to purchase. This question actually we have already talked when we previously discussed how much the grinder can produce in an hour.
Based on the capacity of how much kg/hour that we can get, it's very each to calculate the quantity of coffee bean machine that you may need finally.
One of the questions that may pay attention here is, how many hour you plan to work per day? If you plan to work 24 hours non-stop, you need to have cooling water system definitely to cool down the machine. And the working hour also need to be calculated into your capacity calculation. Automatically material feeder helps to feed the coffee bean raw material automatically, so that no need to stop and refill the hopper frequently. Cyclone Seperator helps output material quickly, vibrating table screener helps screen out the qualified fineness material. All these portion run automatically will significantly help improve the efficiency and capacity. A good rule of thumb to remember is that a larger capacity usually also means a higher level of speed. 
6. How to ensure your coffee bean machine Quality?
Quality is of paramount importance to just about everyone, and it should be to you, too.
Customers always want the quality in their purchasing, and they will keep long term business with high quality supplier.
Always offering high-quality coffee bean grinder machine to our customers will earn us a solid reputation with them.
Keeps in mind about quality, we ensure our quality through following items:
– Material: we use 304 or 316 stainless steel body, 316 stainless steel for raw material contact portion.
The material of body always decide by customer, we will confirm the material type with you before you load order.
– Cooling Water System: jaket design allow ooler temperatures while grinding, preventing the burning of the coffee.
– Grinding Disc and Knife Cutter Design: The industry standard in material for grinding discs is steel, but there are different types of steel to choose from, such as die-cast and tungsten carbide. Good disc and knife design helps cut the material efficienctly. This also ensure the high quality of result mesh fineness.
7. Is it Convenience to operate machine in grinding?
Convenience to operate for your employees and yourself is also very important.
Your operator may need to carry the material back and forth in batches. Your operator may need to stop machine to clear and clean machine frequently. Your operator may also need to do screens the size of fineness after grinding and then put the inqualified powder back to machine to do grinding second time.
Yes, these are all the problems. But LINKER Pulverizer helps you reduce or solve these probems. You only need to buy the whole set group, which including automatically feeding system, grinding main machine, cyclone separator system, screen system after grinding and even an back material system back to grinder.
Save the manpower also helps to save the cost.
8. What is an industrial coffee grinder?
An industrial coffee grinder is a type of coffee grinder that is specifically designed for commercial or industrial use. These grinders are typically larger and more powerful than traditional home coffee grinders, and are designed to handle the high volume demands of coffee shops, restaurants, and other businesses that serve coffee to a large number of customers.
Industrial coffee grinders come in a range of sizes and styles, from small countertop models that can grind a few pounds of coffee per hour to large standalone machines that can grind hundreds of pounds of coffee per hour. They typically feature heavy-duty construction and high-quality materials to withstand the rigors of continuous use in a commercial setting.
Industrial coffee grinders are also designed to produce a consistent grind size, which is important for ensuring that the coffee flavor and aroma are consistent from one cup to the next. They often have multiple settings for adjusting the grind size, allowing baristas and other coffee professionals to fine-tune the grind for different brewing methods and coffee blends.
Overall, industrial coffee grinders are an essential piece of equipment for any business that serves coffee on a large scale, and they play a crucial role in producing high-quality coffee beverages that customers will love.
9. What grind size makes strong coffee?
The grind size for strong coffee can vary depending on the brewing method that you are using. In general, a finer grind size will result in a stronger cup of coffee, while a coarser grind size will result in a weaker cup of coffee.
For example, if you are using an espresso machine to make coffee, you will need a very fine grind size to produce a strong, concentrated shot of espresso. On the other hand, if you are using a French press, you will need a coarser grind size to produce a strong cup of coffee, as the longer brew time allows more flavor to be extracted from the coarser grounds.
For a standard drip coffee maker, a medium grind size is typically recommended for producing a balanced and flavorful cup of coffee. However, if you prefer a stronger cup of coffee, you can experiment with using a slightly finer grind size.
Ultimately, the best grind size for strong coffee will depend on your personal taste preferences and the brewing method that you are using. It's always a good idea to experiment with different grind sizes and brewing methods until you find the perfect combination for your taste.
LINKER Industrial Coffee Grinder can grind to 10-100mesh , and the ultrafine coffee grinder can grind to 300mesh.
10. What are the 2 types of coffee grinders?
There are two main types of coffee grinders: blade grinders and burr grinders.
Blade Grinders: Blade grinders are the most common type of coffee grinder found in home kitchens. They use a spinning blade to chop the coffee beans into small pieces. Blade grinders are generally less expensive than burr grinders, but they produce a less consistent grind size. The grind size can vary from very fine to very coarse, and the inconsistency can affect the flavor of the coffee.
Burr Grinders: Burr grinders use two revolving abrasive surfaces, called burrs, to grind the coffee beans into a consistent size. Burr grinders are more expensive than blade grinders, but they produce a more consistent grind size, which results in a better-tasting cup of coffee. Burr grinders come in two types: conical and flat. Conical burr grinders are usually more expensive and are considered to be the superior option, as they produce a more uniform grind size and can be adjusted to a finer setting than flat burr grinders.
Overall, both types of coffee grinders have their advantages and disadvantages, and the type you choose will depend on your personal preferences and budget.
11. What is the most important part of a grinding machine?
The most important part of a grinding machine is the grinding wheel. The grinding wheel is the cutting tool that removes material from the workpiece by abrasion or cutting. It is composed of abrasive grains bonded together with a bonding agent, and its design and composition can have a significant impact on the grinding process.
The quality of the grinding wheel is crucial to the performance and efficiency of the grinding machine. A high-quality grinding wheel should be able to remove material quickly and efficiently, without overheating or clogging. It should also produce a smooth and consistent finish on the workpiece, with minimal surface damage or deformation.
To ensure the quality of the grinding wheel, it is important to use a wheel that is appropriate for the type of material being ground, and to maintain the wheel in good condition. This includes regularly dressing the wheel to remove any buildup of metal particles or other debris, as well as periodically inspecting the wheel for cracks or other signs of wear.
Overall, the grinding wheel is the most important part of a grinding machine, and choosing a high-quality wheel that is appropriate for the job is essential to achieving the best possible grinding results.
12. How to grind coffee beans without a grinder?
There are a few methods you can use to grind coffee beans without a grinder:
Mortar and pestle: Use a mortar and pestle to crush the coffee beans. This method takes time and effort, but it's an effective way to get a consistent grind.
Rolling pin: Place the coffee beans in a plastic bag and use a rolling pin to crush them until they're the desired consistency.
Hammer: Place the coffee beans in a sturdy plastic bag and use a hammer to crush them. This method can be messy, but it works in a pinch.
Blender or food processor: If you have a blender or food processor, you can pulse the coffee beans until they're the desired consistency. Be sure to use short pulses to avoid overheating the beans.
Grind by hand: You can also use a manual method to grind coffee by hand. Place the beans in a plastic bag and use a heavy object, such as a pan, to crush them until they're the desired consistency.
Keep in mind that these methods may not produce a consistent grind, which can affect the quality of your coffee. If possible, it's best to invest in a coffee grinder for the most consistent and high-quality grind.
Recommend Reading